My Story
I'm a dutch painter, my studio is in Amsterdam.
I grew up in Hilversum and I moved to Amsterdam after leaving school.
Did all kind of jobs and was dreaming of being an artist; I didn't dare thinking of becoming a painter, but still decided to go to art-school.
To my surprise I was accepted at the Rietveld Academy where I learned a lot and learned who I really was.
After this education I did some work in theatre and show-productions.
After working in a stylist-team I came to a conclusion.
There was only one option for me:
I had to make paintings.
That was a frightening decision because I had to pay the rent etc.
So I did follow my dream and for the first time I started painting and connecting with art on a daily basis.
Looking for mentors from whom I learned so much and joined others who, like me were trying to advance in the art-world.
It still was a lonely struggle to develop myself, in the meantime doing all kinds of jobs.
All of a sudden my Partner, friends and colloques were falling ill, and I found out that I was infected too with the HIV virus.
The world around me was dying and I survived this nightmare with another perspective
in live and with another energy.
This period defined my life and the art I make today.
My spiritual awareness and my interest in Universe became an inspiration for my Art.
Wondering about our Cosmos and Life in this magic universe I came to the conviction
that we are a part of a bigger system.
If you like to discover my life in art visit the links on this website.
Possible you see similarities with your own live, maybe you recognize aspects in my work.
click HERE to receive information.
Connecting with art is insightful and an enrichting gift to humanity.
You can become a collector my art. Its surely not exclusivity available for wealthy individuals.

Roland Broekhuis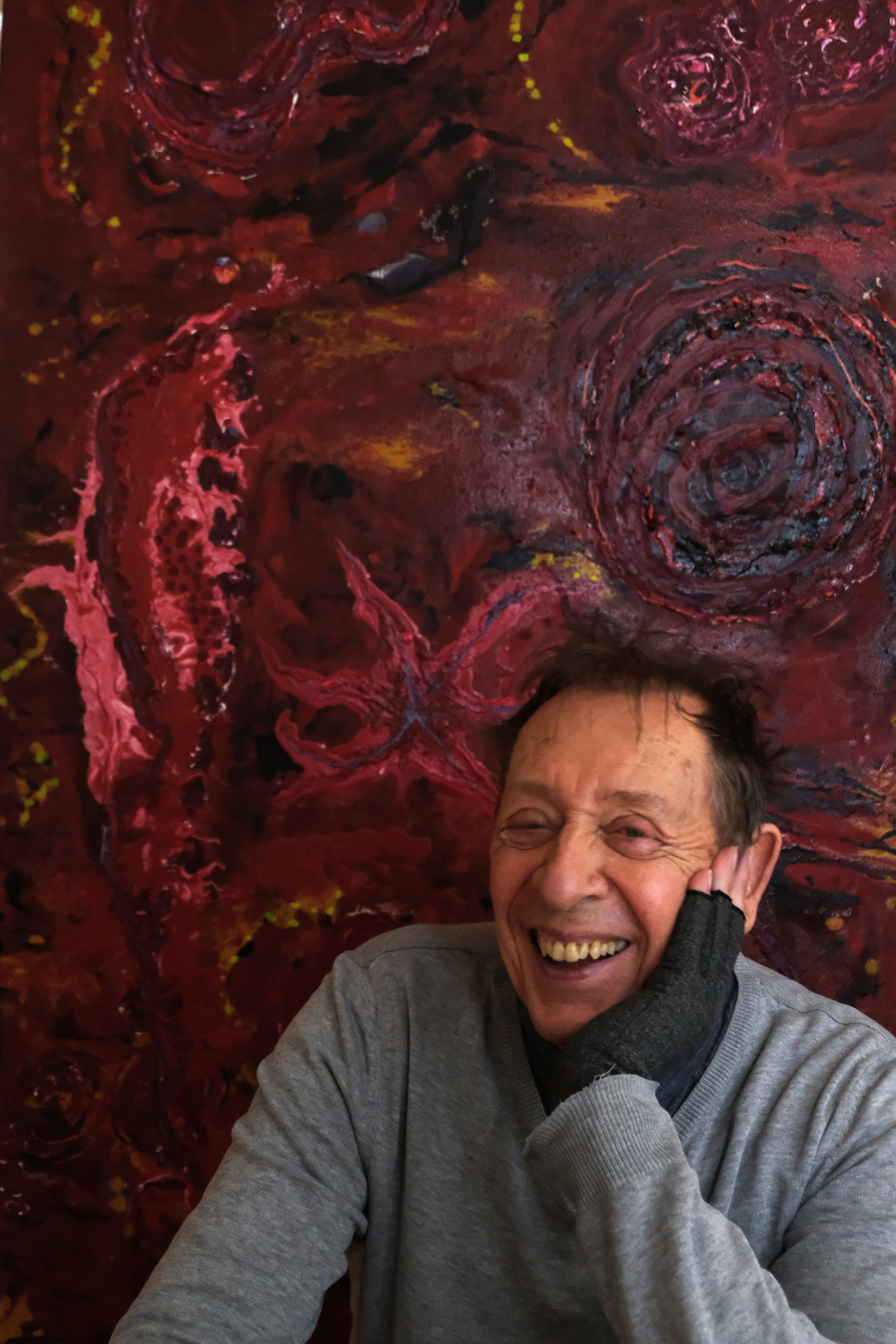 Mijn Verhaal
Ik ben een Nederlandse schilder, mijn studio is in Amsterdam. Ik groeide op in Hilversum waar ik vertrok na de Middelbare school.
Ik deed allerlei baantjes en droomde ervan kunstenaar te worden en besloot toelatingsexamen te doen voor de Rietveld Academy.
Tot mijn verbazing werd ik aangenomen en ik leerde daar heel veel en ontdekte vooral wie ik was.
Na deze opleiding werkte ik o.a. mee aan verschillende theaterproducties.
Na in een styling team gewerkt te hebben kwam ik tot de conclusie dat er maar één optie voor mij open bleef.
Ik moest gaan schilderen. Dat was ook een angstaanjagende beslissing, omdat ik de huur e.d. moest betalen.
Dus ik volgde mijn droom en eindelijk schilderde en verbond ik me met kunst op een dagelijkse basis. Zoekend naar mensen van wie ik kon leren en anderen die zich net als ik verder in kunst wilden verdiepen.
Het was een eenzame strijd om mezelf verder te ontwikkelen en ook nog allerlei baantjes te hebben.
Vrienden en Collega's werden plotseling ziek en ik ontdekte dat ik ook was geïnfecteerd.
De wereld om mij ging dood.
Ik bleef leven met een ander perspectief en een andere energie.
Deze periode bepaalde mijn leven en bepaalt de kunst die ik maak.
Ik moest mijn leven weer opbouwen.
Spiritueel bewustzijn en de interesse in het Universum werden de inspiratie voor mijn kunst.
Me afvragend hoe dat nou zat met het universum, hoe ziet het er daar uit, is er leven en ik  kwam tot de overtuiging dat we deel uitmaken van een groter geheel.
Wanneer u geïnteresseerd bent in mijn kunst, kijkt u dan eens naar de verschillende links van de Thema's waarover ik schilder.
Mogelijk ziet u overeenkomsten, wellicht herkent u mijn werk, schrijf u in boven aan de website en u ontvangt mijn Nieuwsbrief.
Verbinding met kunst geeft inzicht en kan een verrijkend onderdeel van het leven zijn.
Misschien wilt u een kunstwerk aanschaffen. Dat is mogelijk voor iedereen.
Roland Broekhuis